Hi readers! Did you miss me? I've just got back to business after a couple of weeks off, where I enjoyed various smokes and Halloween mischief with Jo. As the clocks went back I fulfilled my annual tradition of breaking out a tin of my person favourite "winter warmer" pipe tobacco: Samuel Gawith's Fire Dance Flake, which is a beautiful Virginia flake, topped with the essence of blackberries, brandy and vanilla, guaranteed to warm the cockles!
I also had my first taste of the recently released Davidoff Winston Churchill Late hour, which – somewhat intriguingly – are aged in whisky barrels, giving them a bold but sweet character.
I may have confessed this in this blog before, but I haven't always been the biggest fan of Davidoff cigars, as I spent a long time as something of a "Havanas only" smoker and was always put off by the fact that Davidoffs tend to cost a similar amount to Havanas. However, over the last year or so, I've really developed an appreciation for Davidoff and can understand why they carry the premium price tag; In many cases, the blends are just as enjoyable as Havana brands and the consistency of the construction is absolutely on point. I've smoked a lot of 'Doffs lately and I'm yet to have one that hasn't burned and drawn absolutely perfectly. Particular favourites have been the Nicaragua Robusto, the Winston Churchill Toro and for a great value option the Winston Churchill Belicoso (It's medium filler, but I promise you wouldn't guess!) I've also been continuing my recent obsession with traditional English/Balkan/Scotch style pipe tobacco, in fact, I'm puffing away on a beautiful smoky and nutty bowl of Davidoff Scottish Mix (Davidoff aren't paying me to say this, I promise… this one's a genuine coincidence that I literally didn't realise until I started typing that sentence…)
Anyway, on to more current affairs. I'm writing this on the evening of Thursday November 9th, which means we're just a few days removed from one of the most highly anticipated events on the cigar calendar this year: The launch of the Cohiba Talisman! This is the 2017 Edicion Limitada that we've all been excitedly waiting for nearly all year! I was lucky enough to get invited to the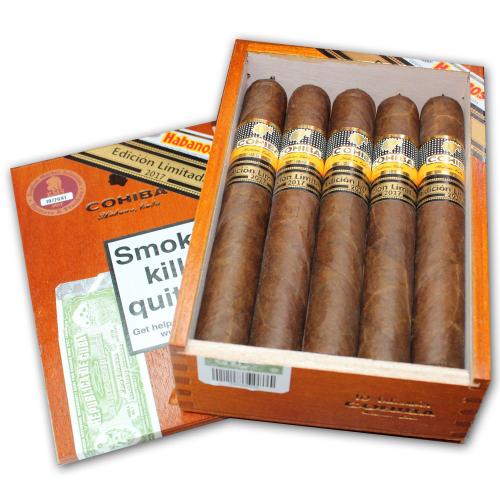 official launch in London. Unfortunately, I had the travel day from hell and my train was delayed by several hours so I missed part of the event, but I just got there with enough time to try this insanely luxurious new cigar and catch up with the rest of the C. Gars crew in attendance. If you haven't already snapped up one of these beauties, you absolutely have to give them a try. Classic sweet grassy Cohiba notes, but with a little extra oomph. If the last few Cohiba Edicion Limitadas (Robusto Supremo and 1966) are anything to go by, these cigars will disappear in a flash, so make sure you get them before they're gone for good. Seriously, blink and you might miss them, so don't delay!
If you didn't make it to Cohiba Talisman event, don't fret! We still have plenty more events lined up in the remainder of the year. There are still loads more on top of those too and Late Night Turmeaus in Liverpool now host weekly tastings! Keep an eye on our Upcoming Events page for more details.
Before I go, just a heads up, now we're getting deeper into November, its officially Christmas in retail, so get ready for plenty of festive themed blogs and gift suggestions!
Until next time:
Put that in your pipe and smoke it!
Calum