Food and Beverage pairings have long been popular with the connoisseurs of the world, for example Champagne with Oysters, and Red Wine with Beef. A lesser known but exquisite treat is pairing a Fine Cigar with Whisky.
Although a cigar can be nicely paired with almost any beverage, for example fresh coffee, rum, even cocktails and beers, most believe that pairing the right cigar with a whisky is the perfect match. By picking up on the various notes and aromas of each cigar you can find the perfect dram to compliment it.
We have a great range of pairings on our site to browse through, so if you already know your favourite whisky and would like to try a cigar to compliment it, or if you have a favourite cigar and are interested in learning what works best with it… take a look at our range today and we may already have the perfect pairing for you!
We offer pairings of single cigars and miniatures, as well as pairings of full size 70cl bottles and a sampler of cigars to match. Read on to view some of our personal favourites and most popular pairings…
Intro To Bourbon Whisky and Cigar Pairing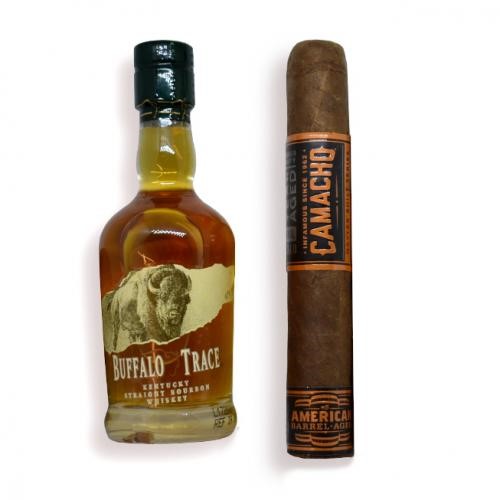 A classy Bourbon, Bourbon Trace is from the eponymous distillery that has been responsible for some truly outstanding products in recent years. A great whisky, with oodles of vanilla, barrel char and spicy complexity and overall a must-stock for any bar worthy of the name.
Spicy and sweet with caramel, delicious toffee eclairs with a hint of cinnamon, rum spice and cereal sweetness.
The Camacho American Barrel Aged Robusto is an intense smoke that sets the tone for a life without limits. Inspired by the uncompromising craftsmanship of Kentucky bourbon makers, their master builders have blazed new frontiers in complexity. Aging Camacho's legendary Corojo leaves for six years and then locking them in charred bourbon barrels – a dance with the devil's cut that leads to rich oaky flavours and sweet bourbon aromas. Wrapped in rare all-American broadleaf, it's an unforgettable experience that forges the way for infinitely more.
The unique and different flavours these smokes have to offer are paired perfectly with the Buffalo Trace which is sweet yet spicy to intensify and really bring out the flavours of the Connecticut Machitos.
AVO Orchant Seleccion Robusto + Stalla Dhu Speyside Whisky Pairing Sampler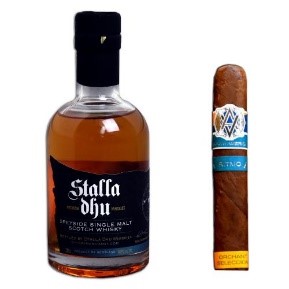 Introducing a new and exclusive whisky to Turmeaus, the Stalla Dhu Islay Whisky. A rare collection of small batch and single cask malts from Scotland's finest distilleries. Created by Mitchell Orchant and bottled by Stalla Dhu Whiskies.
Stalla Dhu is Scottish Gaeilic for "Black Cliff" and with this exclusive whisky, there are two different regions, this Islay edition and a Speyside offering.
First and second generation members of our family of independent bottlers carefully select the whiskies which show a particular promise.
To begin, the wood is managed and we continue to house the environment and casks which best affect the aging to achieve the unique results which we strive for.
The whiskies are then left until the time is right and then select the correct ABV to bring to you a very special dram.
Paired wonderfully with the AVO Orchant Seleccion Syncro Robusto. Inspired by the cosmopolitan lifestyle of Avo Uvezian, AVO's Master Blender has ventured to the untamed heart of Central America.
Capturing sweet and spicy flavours from the rich, volcanic soil of Nicaragua and blending them with the soft, creamy notes of the finest Dominican leaves. Resulting in a smooth and balanced box-pressed cigar with unexpected depth and complexity.
Tomatin Legacy Scotch Whisky and Barrel Aged Cigar Pairing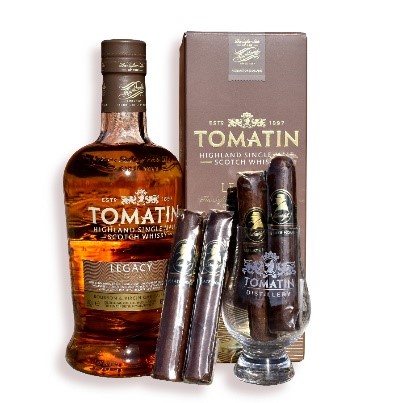 This pairing is for aficionados who love to enjoy a scotch whisky with their cigars, the Davidoff Late Hour cigars contain tobacco aged for six months in finest Scotch single malt whisky casks. The perfect pairing!
When Tomatin Distillery was established in 1897, the isolated and idyllic setting of  Tomatin was almost perfect. Time in Bourbon barrels and Virgin Oak casks brings a light sweetness to The Tomatin Legacy, which boasts aromas of vanilla, marshmallow, pineapple and lemon.
On the palate gentle flavours of candy, pine, lemon sherbet, apples and sponge cake emerge ahead of a light, clean finish.
Sir Winston Churchill was not a man to follow convention. When most people were thinking of their beds, Sir Winston found inspiration and creativity in the long dark hours of the night. The dark was where he found his spark.
Davidoff celebrates this facet of the Great Man with a special cigar – The Late Hour. Beautiful, robust flavours of black pepper, dark coffee, sweetness, old leather, wood and spiciness tantalize the palate.